In This December 2020 Newsletter:
---
GIER Programs at a Glance • New GIER Knowledge Mobilization Project • A Year of GIER • Conversations Across the Disciplines • GIER Early Career Affiliates • Climate Change Research by Affiliates • Support for Application to CAAF • Letter in Science by Affiliate • Affiliate Among Most Powerful Women • The Climate Emergency: Webinar Recording • Holiday Alert • Contact Us •
GIER Programs at a Glance
---
Matching Funds Program: Are you applying for or have applied to an external agency to do interdisciplinary environmental research? GIER may be able to support you with cash or in-kind contributions. More info and application form here.
Events Program: Looking for support to host an event, webinar, discussion panel, or bring in an external speaker? Our Events Program might be a good fit for you! More info and application form here.
Small Grants Program (deadline January 29, 2021): All areas of environmental research are eligible for our Small Grants Program. New this year, however, we are particularly interested in proposals that address one or more of our Strategic Areas. Read more here.
Grant-Writing Program: We can help with grant-writing! Send us a brief summary of your proposal to info.gier@uoguelph.ca to discuss possibilities with GIER's Director.
New GIER Knowledge Mobilization Project
---
Great news! Our project "Disseminating knowledge through interdisciplinary conversations" has received support from the FfT Knowledge Mobilization Fund. We will be offering a free GIER webinar on knowledge mobilization (winter 2021) and hosting five interdisciplinary teams that will create unique arts-based communication/knowledge mobilization products. Below you can see how we envision the interdisciplinary work of each team.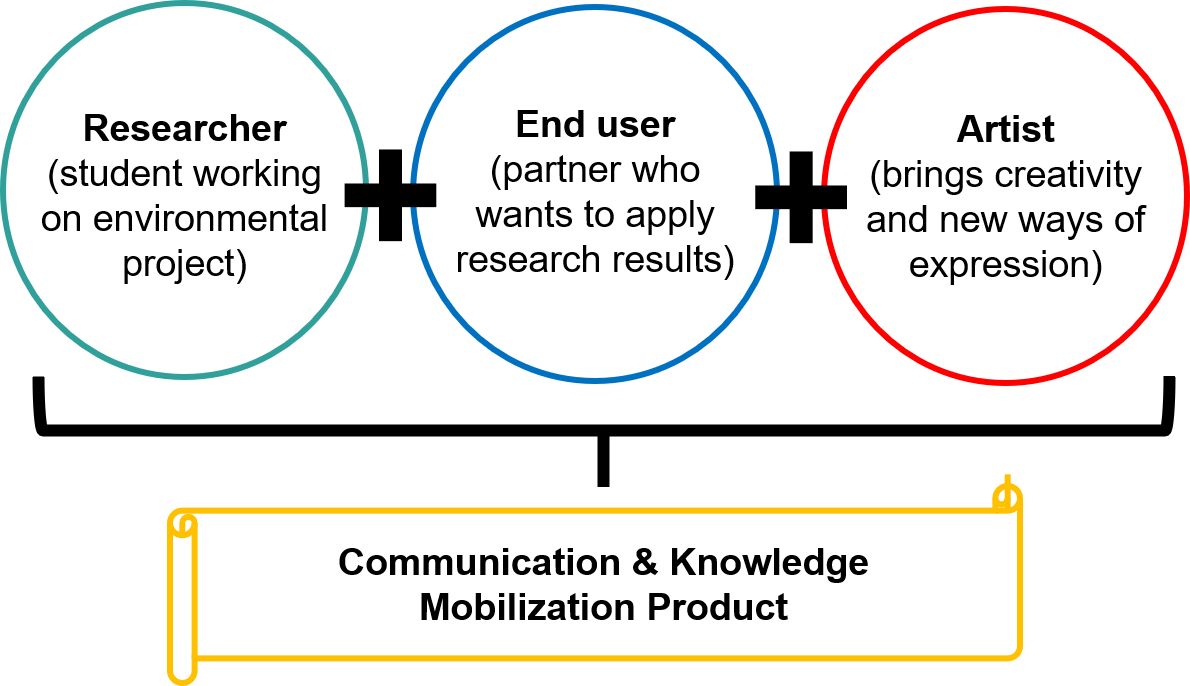 A Year of GIER
---
We have been working on our first Annual Report. These are some interesting facts and figures about our first year:
120 guests attended our launch in October 2019
110,000 CAD invested in interdisciplinary research
29 HQP trained through our Small Grants Program
112 Faculty Affiliate Members (from 25 departments/schools)
21 Early Career Affiliate Members (from 14 departments/schools)
25+ engagement meetings with stakeholders
2 GIER-led webinars, with 290 registrants
3 GIER-led grant applications submitted
3 GIER-supported grant applications submitted
Conversations Across the Disciplines
---
Do you know an Affiliate who works on similar environmental topics as you but from a different perspective? We would like to facilitate a conversation between you two! Not sure what this means? Check out our conversation between Affiliates Catherine Bush (novelist) and Emmanuelle Arnaud (geologist).
GIER Early Career Affiliates
---
Graduate students and postdocs from all departments and colleges have been joining GIER as Early Career Affiliate Members. Everyone is excited for the opportunity to engage in interdisciplinary discussions, so we will start by providing a virtual space for these in the winter! To show the diversity of skills and talents of our current Early Career Affiliates (and admittedly, for fun) we created this word cloud together.
This is what some of our Early Career Affiliates are saying about the value of interdisciplinary research:
"I believe interdisciplinary research is crucial to our understanding of the natural world... If I had to summarize this in one word it would be 'perspective'..." (Kyle Lanteigne-Wilkins, CBS)
"[...] the application of the work done in specific disciplines to address problems and 'Improve Life' lies in interdisciplinary research. Systems and processes [...] are so interconnected and interrelated that it's difficult to isolate solutions to any one discipline." (Emily Smit, CSAHS)
"[...] environmental research cannot be adequately contained in a singular disciplinary focus [...] different ways of knowing, diverse collaborations, and deeply improvisatory relationships are needed to [...] improve daily living relationships." (Benjamin Finley, COA)